Commercial Roofing Company in Des Moines, IA
Right Way Commercial Roofing Company has the best commercial roofing contractors in Des Moines and the surrounding areas to keep your commercial property functioning at full capacity with affordable commercial roof installation and roof repair costs. If you are a Des Moines facility manager or business owner in need of a new metal roof install or commercial roof repair to your existing roof, our Des Moines commercial roofing company has experienced local roofing contractors have the expertise and roofing products necessary for commercial roof installation and repair that helps your roof withstand the unpredictable and often harsh Iowa weather.
Why Choose Right Way Roofing as Your Preferred Commercial Roofing Contractor?
Right Way Roofing is gaining a notable reputation as one of the few commercial roofing companies in the Des Moines area with the unique distinction of being official Conklin Roofing dealers and installers. Our commercial roofing contractors specialize in metal roof installation for commercial building of all sizes, using the industry-favored Conklin Roofing Systems for all your metal roof restoration and installation needs. Whether your commercial roof is leaking, has experienced storm or hail damage, or is simply outdated and ineffective, our Des Moines commercial roofing repair company experts will help you find the most effective, durable, and energy-efficient commercial roofing solution for you.
Our commercial roofers understand that installing a new roof for a commercial property or business is a major investment. We offer affordable roofing repair and installation service for our valued customers in Des Moines and throughout the Midwest to keep your costs low, without sacrificing quality or customer care. Your business is important to us, and we recognize that the decision to install a new commercial roof can be daunting. Our Des Moines commercial roofing company contractors will make sure that your commercial roofing project gets completed efficiently, with minimal disruption to the workplace or facility residents. Our commercial roofers display professionalism at all times and keep our work areas clean, so you can continue to focus on your business.
The Best Commercial Roofing Products in the Industry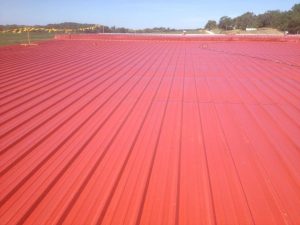 Our roofing contractors know that in order to get your commercial roofing project done the "right way," it starts with the right roofing brands, products, and materials. That's why our professional roofers chose to become licensed Conklin Roofing dealers and installers. Conklin Roofing Systems has been leading the roofing industry in commercial roof products for metal roof repair, roof restoration, and more, for over 40 years! Right Way Roofing has the ability to utilize Conklin roofing products such as premier reflective roof coatings, caulks and sealants, cleaners, primers, and more for all commercial roofing projects.
As Independent Conklin Roofing Product Distributors, our Des Moines roofers are able to find the ideal commercial roofing products and materials for your business or facility. Although we specialize in metal roofing restoration and repair, we install all types of residential and commercial roofing. No matter what type of roof installation you desire, we will ensure your roof is the most durable, weather resistant, and energy-efficient, to help you cut down on energy bills and roofing repair and maintenance costs in the future.
When it comes to commercial roofing in Des Moines, do it the right way the first time! Contact Right Way Roofing today for a free estimate on your new commercial roof or metal roof repair and restoration project, so you can feel confident in a commercial roof that supports the needs of your Des Moines business!
Click here to see a metal roof restoration project in action using Conklin Roofing Systems!